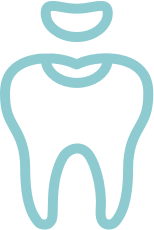 Restorative Dental Fillings by Magnolia Dental
For hundreds of years, dental fillings have been used to restore teeth. Dental fillings are placed in teeth where a dentist has had to remove tooth structure due to decay or fracture. In recent years, filling materials have been substantially improved by many technological advancements. Although silver amalgam was the dominant choice years ago, today we have several other preferred options for tooth restoration including tooth colored composite filling materials and cementable resins and porcelains.
How Long Does a Tooth Filling Last?
Dental fillings are built to last, however they don't necessarily last a lifetime. Amalgam fillings are quite durable and can undergo some serious wear and tear. This type of restorative dentistry will usually last upwards of 10 to 15 years with proper care, acting as a great solution for decaying teeth.
What Does The Dental Filling Process Look Like?
Decayed teeth require fillings to restore strength and health of natural teeth
The decayed portion of the tooth is removed from the sound tooth structure.
Filling materials are shaped to match the look and feel of natural teeth.
Today, many modern materials can be used to mimic the color and texture of natural teeth.
Do I Need a Filling or a Crown?
The path you go down depends on the need. If your cavity or decay is mild, a filling may be the best solution. Fillings are preferable over crowns for small fixes because they avoid the "shaving" of the tooth that occurs with the installation of a crown. However, if the erosion has progressed too far, a dental crown may be necessary to preserve the tooth and provide adequate long-term support. Still not quite sure what options you need to pursue? Our dental professionals will help you decide!
For more information regarding dental bridges and how to care for them, get in touch with Magnolia Dental today!