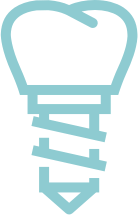 Tooth Implant Surgery by Magnolia Dental
When it comes to replacing one or more teeth in your mouth, a dental implant is often the treatment of choice and is also one of the most conservative treatments for tooth replacement. Implants are bio-compatible posts that replace the roots of your missing teeth. They are physically and biologically designed to attach to your jaw bone and become the foundation for a natural looking restoration. Your new tooth or teeth will have excellent stability and strength, and will look and feel like your natural teeth.
What Does a Dental Implant Procedure Look Like?
Implants are prescribed to replace a missing tooth or teeth.
An implant post is surgically placed into the area where the tooth is missing. In a few months bone will fuse to the implant.
A customized crown or bridge is permanently cemented to the implant.
Implants restore the natural beauty, function, and health of teeth.
Why Get a Dental Implant?
Implants look almost identical to natural teeth
They preserve the strength and health of your jawbone
They're permanently placed in your mouth, unlike dentures
You can go back to eating your favorite foods and speaking naturally
Implants cannot form cavities
They give you a second chance at having a great smile!
How Long Do Dental Implants Last?
Tooth implants are designed as a long-term solution to replace teeth and they are built to last. Despite the possibility of some slight adjustments along the way, many implants last a lifetime, successfully making them one of the best restorative dentistry options.
For more information regarding dental bridges and how to care for them, get in touch with Magnolia Dental today!