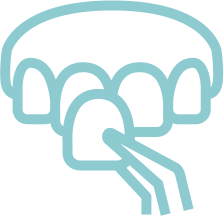 Dental Veneers
Unlike a crown, which covers the entire tooth, a veneer is a thin shell that is placed over the front or visible parts of the tooth. There are two types of veneers, ceramic veneers that are produced by a dental laboratory and resin-based composite veneers. With proper care, your new veneers will greatly improve your appearance and increase your confidence for years to come. These dental implants can also be used as a tool for a patient recovering from Periodontal Disease.
Porcelain Veneers vs. Lumineers
We often receive the question "What's the difference between dental veneers and lumineers?" As mentioned above, a veneer is a thin shell placed over a tooth to cover chips, gaps, or stains. A lumineer is simply a type of veneer – one that is ultra thin, highly translucent and almost identical to natural enamel. Often times, the thinner coating minimizes tooth reduction and offers 20+ years of durability. Your dentist will know if lumineers are your best option!
The Dental Veneers Process
Veneers are prescribed for damaged, discolored, or broken teeth
The tooth is prepared by eliminating surface structure
After fabrication, the veneer is cemented to the prepared tooth
Veneers restore natural beauty and health of teeth
For more information regarding our dental veneers and cosmetic dentistry services, get in touch with Magnolia Dental!