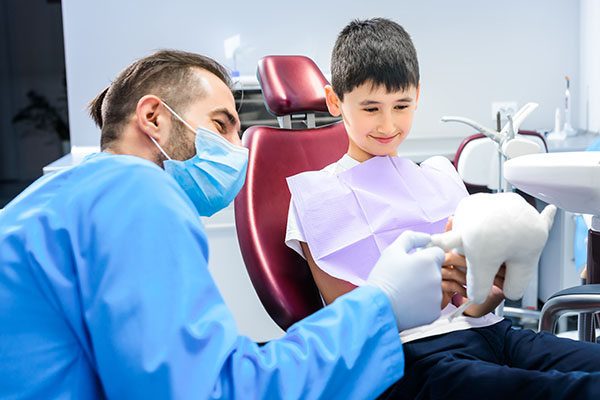 05.15.23
Dental anxiety does not only affect adults. Many children can experience dental anxiety. There are several ways that you can address dental anxiety as a parent. The number one thing that you can do is to find a dentist that makes your child feel comfortable. Dentists who work with children can help your child avoid dental anxiety.
Not Avoiding Dental Visits
Some parents may decide to wait until their child is older for dental visits. They believe that as the child ages, they won't fear the dentist as much as a younger child might. But, missing dental appointments can lead to more dental problems, and even infections. This could cause your child to have more dental work in the future, which can worsen their anxiety. Finding a child-friendly dentist, and seeing them every six months, is important.
Licensed and Experienced
A child-friendly dentist will be licensed and experienced in pediatric dentistry. They can communicate better with children than a dentist with no pediatric experience. Children are sometimes frightened by all the lights, tools, and even the dental chair. The dentist can explain everything to your child so that they are not as scared. They can also show the child that any dental procedure they have to have will be pain-free.
A Better Office Environment
A dentist that works with children will have an office that feels calming for children. There will be an activity area for your child to play and a TV for your child to watch cartoons. The office may be painted in calming colors to avoid unnecessary stress. The dentist may also give your child a prize at the end of their visit! This will all help to curb any anxiety your child might feel when they go to the dentist.
Education
Another great thing about child dentists is that they will teach your child how to care for their teeth. It is not easy to get a child to learn how to have proper oral hygiene. The dentist will educate your child on how to take care of their teeth between visits. This will help to encourage your child to brush their teeth often. When they have good oral hygiene habits, they won't have as many dental issues, meaning less dental visits.
Going with Friends
A dentist that works with children will see many different children. If your child has friends in the local area, chances are they will see each other in the office. This can help to curb dental anxiety. When a child knows that their friends are there, this can help them to be brave and happy to go to the dentist.
CALL US TODAY
If you are looking for a dentist for your child, contact Magnolia Dental today. We have a team that specializes in child dentistry. We will work with your child to ensure that they have a pleasant experience with less anxiety.