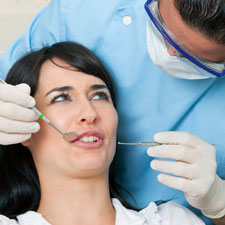 03.06.23
If you have dental anxiety, you are not alone. Many people all over the world suffer from anxiety. It can be due to past trauma, or it can occur from something else. For some people, it can be so bad that they are unable to visit the dentist often. This is a recipe for teeth problems though. If you suffer from anxiety, you will want to find a way to remain calm so that you can go to your exam.
Look For a Dental Office That Helps with Phobias
Many dental offices out there cater to people with phobias. They can do things to help calm you during your visit. Be sure that when you call them to set up an appointment, you tell them about your anxiety.
Look for an Office That Uses Technology
Some dentist offices will let you watch shows or movies during your dental exam or procedure. Some will also opt to play music while you wait and during the exam. If they don't have that technology in their offices, ask if you can bring your own.
Don't Go Alone
When you go on your first visit, you may want to take a friend or family member. Having someone with you can help you to keep calm and feel less anxious. Some dental offices will even allow you to bring a person into the room with you.
Arrive on Time
Some people will arrive early for their dental appointment. This will only increase your anxiety. While you sit and wait, your brain will run away with you, which will make your anxiety much worse. Arrive at your appointment time to avoid long waits. If there is a delay in seeing you, ask to wait in the car where you can play music, or bring a book that will distract you.
Opting for Sedation
If your dental anxiety is severe, you may want to talk to the dentist about sedation options. They have oral sedatives and nitrous oxide. These can help calm you during the exam and any procedures that you may need to have.
Speak Up
You expect a pain-free dental appointment. If you ever feel any kind of pain, let your dentist know immediately. Many people who have dental anxiety have had issues with pain during a dental procedure.
Asking Questions
Be sure to ask your dental team a lot of questions about your exam or procedure. Sometimes, hearing a calming voice can soothe your anxiety. This makes it easier to go through the appointment.
Meditation Techniques
Before you go to your appointment, consider meditating. Doing yoga, or sitting can help you get in the right mindset for your dental exam.
CALL US TODAY
If you suffer from dental anxiety, contact Magnolia Dental today. We will work with you on ways to remain calm and pain-free during your dental appointment.