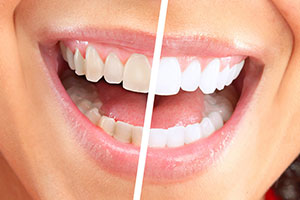 10.16.15
Teeth whitening can improve your appearance. A bright smile is the first feature people see when they look at you. When your teeth are white, it shows you care about your appearance, and is even a sign of good health!
Your self-confidence can improve, too. If your teeth have become discolored or stained, it can cause embarrassment. You may be hiding your teeth when you talk, and not smiling at all. Imagine how good you will feel when you can talk and smile with confidence because your teeth are white and attractive.
A white smile can help you look more youthful. If you have fine lines or other imperfections on your face, they will be less noticeable when your teeth are white and bright.
However, all whitening products are not alike. The products you can purchase over the counter for teeth whitening are often difficult to use and do not produce the same results as professional whitening.
Today there are a variety of products and procedures available to help you improve the color of your teeth. When you want the best results, talk to your dentist about what professional whitening option is right for you. At Worthington Hills Dental we offer two options for teeth whitening: in-office bleaching as well as custom take-home trays with whitening solution which can be used on an ongoing basis. Both options are simple, safe and will help you achieve the results you want.
If your teeth do not look their best because of an unhealthy diet, caffeine or tobacco, poor oral care, or natural aging, there is a simple solution for you. You can have your teeth professionally whitened, and prepare to see beautiful results.
You will look youthful, attractive, and healthy, and be ready to show off your smile. You can start by calling our team here at Worthington Hills Dental for an appointment!